Designing spaces that leave a lasting impression involves attention to every detail. Glass, with its versatile beauty and functional qualities, plays a significant role in modern architectural aesthetics. In this blog, we'll unravel the secrets to a streamlined specifying process.
Understanding Your Needs
Before diving into glass specifications, it's crucial to outline your project's requirements. Are you looking for privacy solutions, decorative elements, or a blend of both? Consider the purpose of the space and the ambiance you wish to create. Whether it's an office, a class room, or a hospitality venue, knowing your needs will serve as the foundation for the rest of the process.
Exploring the Possibilities
Skyline Design offers a diverse array of glass products that cater to a wide spectrum of design preferences. From intricate Eco-etch engraved patterns to vibrant full-color glass walls, writable glass dry-erase marker boards, and laminated glass, the possibilities are endless. As you explore the options, envision how each element could enhance your space's aesthetics and functionality.
Collaboration is Key
A successful glass specification journey begins with collaboration. Skyline Design's team of experts is here to guide you through the process, ensuring that your vision aligns seamlessly with their craftsmanship. Start by sharing insights about your project, including the intended location for the glass, desired privacy levels, and any stylistic preferences. The more information you provide, the more tailored your glass solutions will be.
Translating Visions into Reality
Once your project details are clear, Skyline Design's talented team gets to work. The experts translate your visions into tangible options, including glass samples, lead times, and budget-friendly choices. This step-by-step approach ensures that every aspect of the glass specification meets your expectations.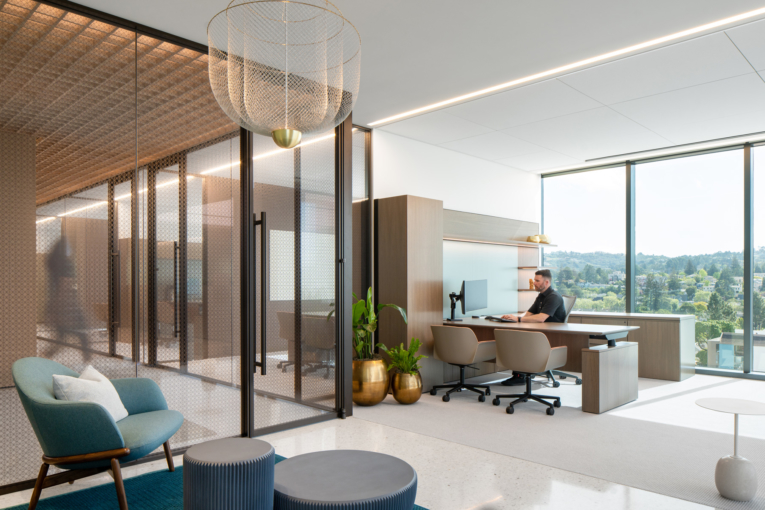 Embracing the Artistry of Privacy
Privacy is a crucial consideration in design, and Skyline Design has mastered the art of combining privacy with artistic expression. Their techniques encompass etching, texturing, printing, and even switchable Smart Glass that provides privacy on demand. The integration of these elements transforms glass into more than just a material – it becomes an interactive design feature.
Finding Your Aesthetic
The process of finding your ideal glass aesthetic is an exciting adventure. Explore various samples and combinations to create a harmonious blend that resonates with your vision. Whether your preference leans toward modern minimalism or intricate patterns, the potential knows no bounds. The Skyline Design team is available to provide guidance, ensuring that your choices align with your desired style.
"If you can't find the exact sample you're looking for, try combining multiple samples together to see if you can get the look you want.

Grab a semi-private Eco-etch sample and an opaque Vitracolor back-painted sample and stack them on top of each other."

— Darcie Tashey, Marketing Director
Sustainability in Design
Skyline Design is committed to sustainability without compromising on design excellence. With environmentally conscious practices, they've earned recognition for their green approach. Your glass specification journey not only results in stunning aesthetics but also contributes to a more sustainable environment.
Realizing Your Vision
Ultimately, the process of specifying glass with Skyline Design culminates in the realization of your vision. The collaboration, expertise, and attention to detail ensure that every piece of glass enhances your space's elegance and functionality. Our commitment to transforming dreams into glass artistry is evident in every project we undertake.
Specifying glass doesn't have to be a daunting task. With Skyline Design as your partner, the process becomes a creative and rewarding journey. Connect with a local sales representative today to delve into the details of your upcoming project.