Published on 11/21/2022 — Vipul Bhagat, COO of Skyline Design, was invited as a guest on The Trend Report Podcast with Sid Meadows, Business Strategist & High-Performance Coach. During the conversation, Vipul shared his 30+ years of expertise in the glass manufacturing industry, and the story behind the architectural glass produced in our century-old building in Chicago.
How Skyline Design Architectural Glass started
Skyline Design was founded by Charlie Rizzo in 1983. When he started the business, Skyline Design produced sculptures and other artworks using many different types of media – not just glass. Skyline Design was comprised many artists creating thematic environments within the hospitality and retail industries. One of our first projects was when the Luxor Hotel & Casino opened back in the 90s in Las Vegas. The themed décor of choice was gold leaf and mummies, so Skyline Design produced over twenty 10' tall sarcophagi to be placed throughout their casino and lobby areas. All the work was painted and sculpted by hand using foam and clay in our factory in Chicago.
How Skyline Design Architectural Glass got into glass
After 15 years producing high-end and highly custom artwork, we decided to focus strictly on architectural glass. We started making decorative glass with artists, and, as technology advanced, we were able to increase our production capacity. We started purchasing the finest glass fabricating and decorating equipment from Italy, Germany, and Switzerland. In terms of sourcing materials, the biggest thing that we buy as an architectural glass manufacturing company is raw glass, Starphire®, from Vitro's facility in Pennsylvania.
How Skyline Design maintains sustainability
Skyline Design's fundamental material, glass, has an unlimited life cycle and is fully recyclable. Our processes use sustainable materials such as water-based and no-VOC paints, PVC-free films and interlayers, and recycled aluminum oxide for glass etching. We conduct ongoing studies to figure out ways to conserve energy and reuse water.

"We are responsible for the stewardship of our planet, and we take that responsibility seriously."


-Charlie Rizzo, CEO of Skyline Design.

It is so important to conserve our natural resources any way we can. The water used in our factory is separated from debris and other particles by running it through the centrifuge, making it possible to easily reuse this critical resource. We then store this recycled water for future use in our manufacturing processes, limiting our everyday use.
Skyline Design is not only committed to quality and style but also has made intentional shifts to ensure sustainability within our manufacturing processes.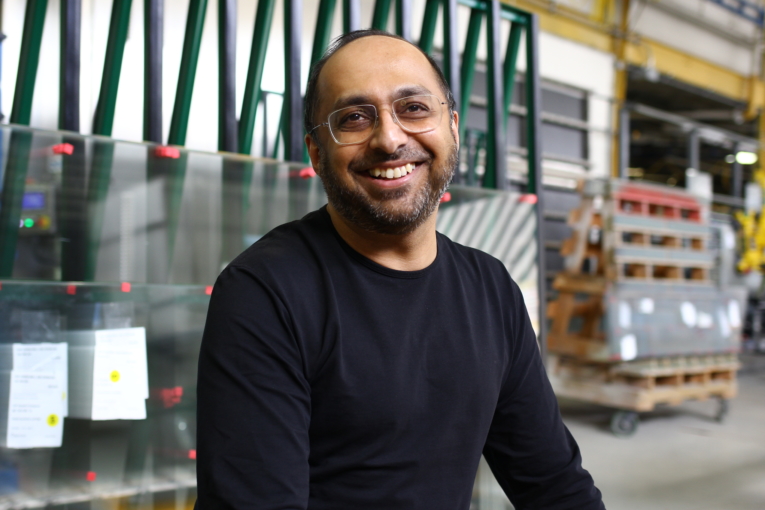 Tune in to Sid Meadow's the Trend Report podcast, episode 107: 'Investing for the Future, Vipul Bhagat of Skyline Design' to hear more about what we do and how we intentionally invest in the future of the industry.